Do something for a change
random
/
archive
/
ask
/
submit
Heyya guys!
I'm Patricia Mae Pacheco.
*Former starbuckie*
That's all I can say for now.I get easily amaze when it comes to fashion.This is my page no one can push me to reblog or like some posts that I don't like.I'll really appreciate it if you follow me :)
note: Those quotes in my posts are not originally mine.. I got only got those from the internet..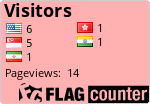 (Source: thebeauty-blog)
7,195 notes
frozen-london reblogged this from liberation-n